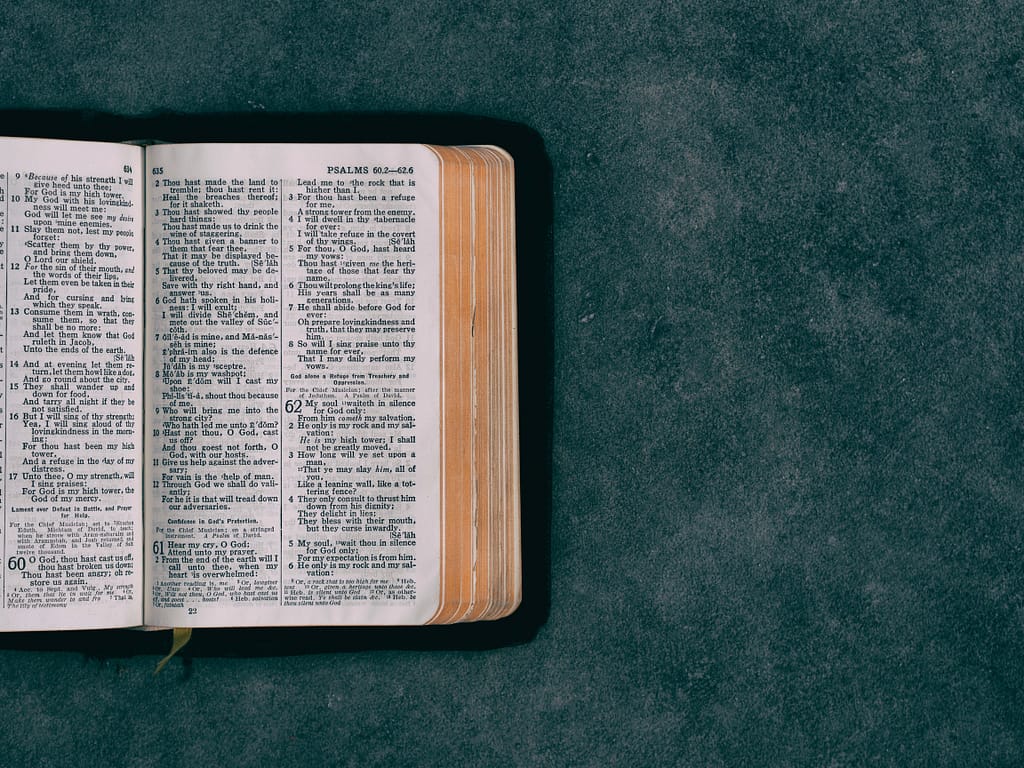 Introduction
As we step into the second part of Psalm 22, there are a couple of things to keep in mind. First, the way David begins this Psalm reveals a great deal to us. In verse 1, you see David speaking prophetically with the voice of Christ, who uttered these words while upon the cross. This is, therefore, a Psalm of the Cross and in these three verses we are going to see David looking to history to see God's holiness in salvation.
How many times have you found yourself praying for relief, only to feel like you are not getting an answer from the Lord? This is one of the questions that we are left with as we transition from verses 1-2 to 3-5. We will wrestle with the hard questions of life and find solace in redemptive history; that is in the way God has always dealt graciously with His people.
David looks at history to see God's holiness in saving His people.
1. You are Holy—v. 3
What we see in this verse is both amazing and terrifying. We see the awe-inspiring Holiness of God and we see that from His holiness is the fact that He is worthy of our praise. In other words, even here in Psalm 22 we find the statement of fact, God is Holy and we are to praise His Holy Name. Look at the first part of verse 3 with me: the Holiness of God.
1.1 Holiness of God
3But You are holy,
As we begin to look over this first part of verse 3, we must recognize verses 1-2 are the context. They are dealing with the suffering of the Messiah. David prophetically sees the dying words of Jesus Christ while upon the cross declaring "My God, My God, why have you forsaken me?" This is Christ having the entire wrath of God for sin poured upon Him. This is the redeeming work of Christ, where He takes upon Himself the punishment due to us. With that said, we must recognize many people begin to question the righteousness of cross.
In fact, there is one view of the cross and the atonement that says it was cosmic child abuse. This misunderstands what it means that the Father would pour His wrath upon the Son,
even to the point of death. The Son went willingly so that He would be able to save others from their sin and misery. This was not abuse, but notice how this query questions the holi- ness of God.
As David sees the death of Christ, David must remind Himself, But You are holy. David reminds us God is holy and we are not. Our holiness is a foreign holiness. It is a holiness that is worked in us by the Holy Spirit of God and given to us through the work of Christ. We are not holy in and of ourselves. We share in His holiness, and this is the only reason we can move along with the "so what" of this verse.
1.2 Worthy of Praise
Enthroned in the praises of Israel.
This is another statement of fact, but imbedded in this fact is a strong point of application. First consider this statement of fact. God sits enthroned upon the praises of His people. This means God is holy, high, and lofty, and at the same time He is in our midst. To put it a different way, as the author of Hebrews does in Hebrews 12, God is in heaven and when we worship, our spirits are lifted into His presence, and we worship Him therein His holy, glorious presence. God is enthroned in our praises of Him.
Secondly, God alone is worthy of our praise. God is worthy of praise because He is God, because He is Sovereign, because He has lovingly saved us in His Son, and because He is Holy. You see, the reality of God's holiness will immediately draw us to worship Him. For this is where we get the word "Awesome" from. God is awe inspiring. God is worthy of our praise.
As David has considered the fact of God's holiness, we must continue to walk through passage and see that our fathers
trusted in this Holy God.
2. They Trusted in You—v. 4
Here is another of God's wonderful attributes: the veracity, or truth, of God. God is truth, which means He is trustworthy.
2.1. A Trustworthy God
4Our fathers trusted in You;
As David considers the Holiness of God, he begins to think back to what he knows of God's relationship with the covenant people of God, the church. David recalls that our fathers trusted in God. So, as we consider this reality of history, we must recognize first how they were able to trust in God, namely by faith. Faith causes one to trust in God. This does not mean doubt will not creep into the walk of a believer, but the believer plagued with doubt will quickly look back and consider their history. For example, God has always been with His people. Even when it seems all was lost, God was there. God never left Noah while on the ark. God never left Abraham while in a land not his own. God was with Jacob while working for Laban. God was with Joseph as he served Potiphar and Pharaoh. God was with Israel while they were slaves in Egypt. God was with David as he fled from Saul and Absalom. This means that in those lowest moments of our lives, we may simply look to see examples of our fathers and recognize they trusted in God.
2. 2 God who Delivers
They trusted, and You delivered them.
Again, David makes this statement of reality. They, our fathers, trusted in God. This is what believers do, for "true faith is not only a sure knowledge whereby I hold for truth all that God has revealed to us in His Word, but also a hearty trust…" The believer will trust in the Lord who has saved them.
This is exactly where David goes when says, They trusted, and You delivered them. God is not only holy and trustworthy, but He is also a Savior, our Savior. He is our Deliverer. From Adam, Noah, Abraham, Moses, Israel, David, to the present day, those who look to God for salvation can trust that He is going to save.
God has promised to save His people. From the Garden, the Flood, the Exodus, the Exile, and to the present day, those who put their trust in Christ by faith will be saved. This is a sure thing because of Jesus Christ's completed work. You look to Christ for salvation, you trust in His completed work, and you are delivered.
But there is one more part of this passage that is factual for every Christian and that is seen in verse 5, They pray to this
delivering God.
3. They Prayed to You—v. 5
3.1 They were Delivered
5They cried to You, and were delivered;
First, this language of crying out to God is prayer. We need to keep in mind the reason we cry out to God. We do so because we believe He is there, and He hears our prayers. We believe He listens and will answer. We cry out to God by faith trusting in the God who will deliver.
Second, notice this is crying out to God, which takes us back to verses 1-2. Things are on the line in this Psalm. The cry in this Psalm is for God to save, for God to deliver. We have all been there in moments of great distress and the only one who can save us is God. Not the government. Not family. Not work. Not neighbors. Only God can save us.
At the same time, recognize this is the God who delivers. Only those who have been redeemed will cry out to God for deliverance because they know He will deliver. Even if you are reading this for the first time that God delivers, there must be faith in God to call out for deliverance. As the author of Hebrews points out in chapter 11 of his book, those who call upon God must first believe that He exists. They must know God exists in order to call out to Him for deliverance. There is a level of confidence the believer has to have to cry out to the God for deliverance.
This reminds me of the young child who is having a night- mare and they call out for their parents to come to their aid. Why do they do that? Because they trust their parents will come to their aid. This is true of those who call out to the Father for
aid. They trust He is there, and He will deliver.
3.2 Not Ashamed
They trusted in You, and were not ashamed.
They put their trust in God and they are not put to shame. You trust in God, which is a part of faith. Recognize from the history in the Bible, the history of the church, and your own personal history, that you will never be ashamed for trusting in God.
Think about all the things you should be ashamed of, trust- ing in God is not one of them. Let me close with a story of a dear brother in the Lord , Polycarp, who was about to die at the hands of Roman authorities.
As the soldiers positioned him for death, they gave him the opportunity to denounce Christ. Polycarp said, "86 year have I served him, and he has done me no wrong. How can I blaspheme my King and my Savior?"
No matter what you are going through in this vale of tears, this evil present age, you have one thing to not be ashamed of, and that is trusting in the God of our salvation. History reveals to us God's holiness, deliverance, and trustworthiness. Continue
to trust in God today.
J.P. Mosley, Jr.,
Professor of Biblical Studies and Systematic Theology
Heidelberg Theological Seminary Sioux Falls, South Dakota
Read more of The Reformed Herald here.