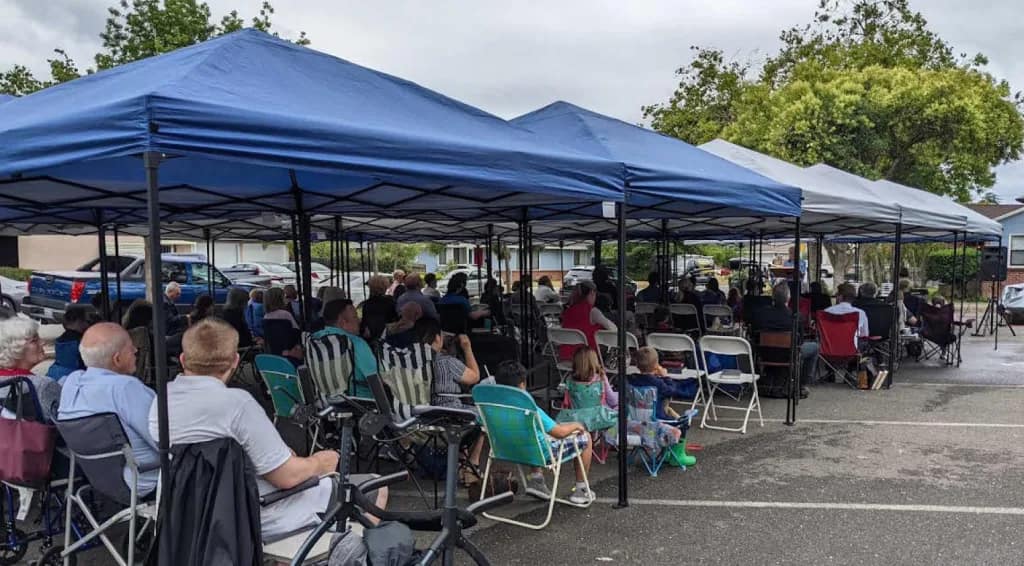 After 40 years or so in our facility, the consistory last year voted to undertake a significant renovation. Under the leadership of deacon Al Esquivel, we installed new lighting and glass interior doors; we repainted, stained, and upholstered our pews. The transformation is stunning and has been well received by both members and visitors. Instead of renting another facility, we followed our practice during COVID and met outdoors in our parking lot during construction, shaded by pop-up tents.
We had the usual interruptions and distractions. Squirrels playing behind Pastor Walker's back, running to and fro and up into the tree that overhung the parking lot. Menacing black bees taking an interest in Pastor Walker's sermon notes. David Voytek, our much-appreciated summer intern, referencing the "mighty rushing wind" in Acts 2 after a mighty rushing wind uprooted several of the tents and threatened to take them into another neighborhood. Police chasing a driver down the adjacent street, siren-a blazing. A party next door competing with our hymn singing with renditions of "Swing Low, Sweet Chariot" and "Row Your Boat."
Needless to say, we were quite happy to make it back into our remodeled facility.
One side benefit of the renovation is that our young ladies are now happy to get married at the church rather than looking for another venue. The previous wood paneling was notorious for providing a garish orange background for those all-important
wedding photos.
2022 had its difficulties and sorrows as well. We had to erase members who left us; Some over our policies taken during COVID. Others moved away because it has become challenging to find affordable housing, especially for our young families. The Lord has been gracious, however. We welcomed new members and installed Matt Daffern as our new deacon. May the Lord grant his grace and blessing to all our churches in 2023.
Kurt Snow
Sacramento, CA
Read more of The Reformed Herald here.