Esteemed Fathers and Brothers: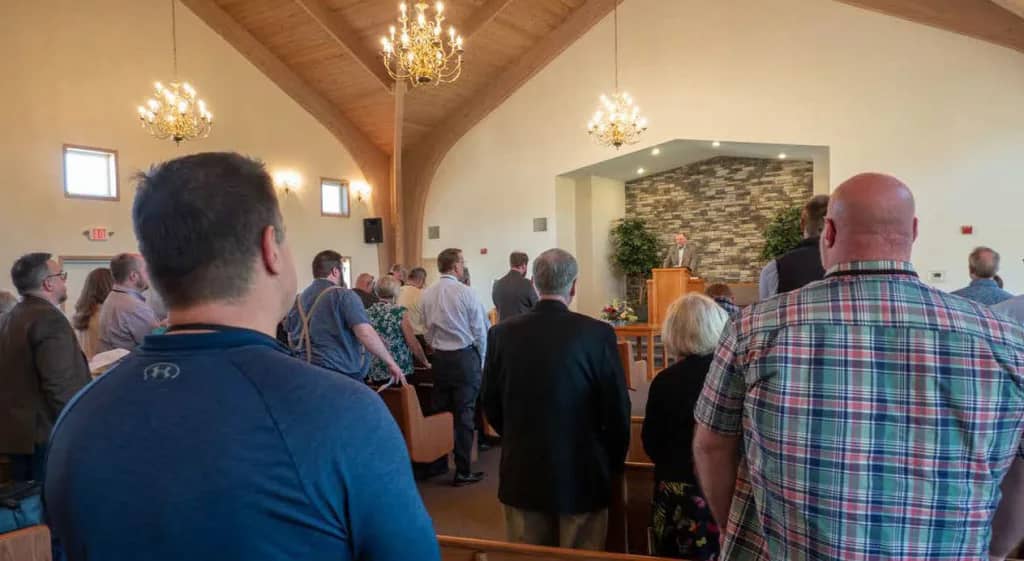 This is my sixth and last report to you as president of the Synod of the Reformed Church in the United States. I have enjoyed serving in this capacity, but the last few months have been extremely difficult for me personally, making it difficult for me to continue in this role. I appreciate your understanding and the brotherly cooperation that you have shown since you first elected me.
With the election of a new president, I am confident that the work of the church will continue to move forward because Psalm 46 assures us that God is our refuge and strength, a very present help in trouble (v. 1). He promises to be in our midst, helping us, and that right early (v. 5). The heathen may rage all around us, attempting to silence our voice, but the psalmist reminds us that God's voice causes the earth to melt.
Of course, this does not mean that the pathway ahead will be a bed of roses. Just as Joshua had to fight to conquer the land, even though God had already given it to Abraham's descendants, so we must boldly and manfully act if we expect the church to move forward in our day. This may require us to look beyond what we are currently doing.
The Presidents' Reports
This year's reports from the presidents of the four Classes share several common themes. One — by far the most important — is that the gospel is being heralded from each of our pulpits every Lord's Day, ministering comfort, encouragement, hope and peace to sinners who struggle with temptation, fear and discouragement. This is something for which we should all thank God.
Another common theme is attrition. Not every congregation lost members (thankfully!). In fact, one reported that its membership had actually increased by 27 percent. And not every Classis ended last year with fewer members either. But the trend is concerning. Looking over the statistics, our overall membership declined in 2021 by exactly one hundred people, ninety-two of whom were communicant members. One congregation reported a whopping 47 percent loss of communicant members. Our unconfirmed membership would have experienced a similar drop if the Covenant East Classis had not received thirty-three new covenant children.
I believe that we also need to see how these statistics fit into the bigger picture. With three exceptions (2009, 2015 and 2019), we have lost members every year for the last nineteen years. During this time, our total membership has fallen from a high of 4369 to a low of 3450 (a loss of 21%). We are now at our lowest level since 1968. But there is a big difference. In 1968 we had only twenty congregations and eighteen ministers; today we have forty-eight congregations and fifty-nine ministers.
This pattern of negative growth is unsustainable. With our established churches shrinking, we have to expect that a growing number of them will find it hard to meet their own expenses, let alone support the broader ministry of the church. Some of our recent church plants have grown, but others have not and are now closed. Last year's Special Strategic Planning Committee addressed these concerns, but more must be done. To help with this, several overtures and recommendations are coming before this year's Synod to address specific issues. Whether we agree with all the details of each proposal, I hope and pray that we will at least give them a fair hearing. When possible, let's improve them so that we can strengthen our overall ministry.
A third theme of the presidents' reports is the need for more ministers. One wrote, "Our pastoral core is aging and we are short of pastors." He went on to say, "We need younger men to serve in our churches to help bring a perspective in this digital age of how to reach the younger generation with the gospel of God's grace." Another urges us to identify "promising candidates in our congregations and encourag[e] them to the work of the ministry." With several pulpits currently vacant, their exhortations must be taken seriously.
Besides these common themes, two other matters came up in individual reports that require a brief word. The president of the Northern Plains Classis believes that his Classis is "at a crossroads" and that its missions committee must do more than just maintain its current works. He also expressed concern about Synod's 2019 decision to include the Gallatin Valley Region of Montana within the boundary of the South Central Classis. An overture currently before us asks us to reverse that decision. And the president of the Western Classis alluded to a growing tendency in the RCUS to deviate from our form of government. He didn't cite any specific violations, but offered instead an encouragement to "be careful and humble to maintain sound ecclesiastical governance and submission."
Committees
The committees of Synod play a vital role in the church's ministry, and there is much in their reports to be thankful for. But first, I would like to say a little about how our committees work.
Some of our committees are extremely busy, meeting several times a year and exchanging emails between meetings. Others, like the Board of Trustees and Editorial Advice Committee, meet only as needed because of the nature of their work. Then there are others that seem to be relatively inactive, often with just one person doing most of the work. This reflects badly on the importance we assign to committee work.
Have we become complacent about the work of Synod? Have we, consciously or not, come to view the work of Synod as something we do in addition to "the work of the church," which we define narrowly as local ministry? If so, we need to remind ourselves that serving on the committees of Synod and Classis is doing the work of the church, and that we vowed to perform all our duties faithfully when we were ordained. We are a denomination, which means that we bind ourselves together in one work, which we all have a part in. Or, to put it in theological terms, we recognize the organic unity of the body of Christ.
An overture coming before us this year seeks to erect a Permanent Nominations Committee to reinvigorate our committees. It argues that we need to draw on the skills and interests of men other than those who serve as delegates to a particular Synod and appoint them accordingly. Whether we accomplish this by establishing a new Permanent Committee, as suggested, or by having the Clerk send a link to all present and former officers each January asking them to identify their areas of interest and expertise, which would then be passed on to the Standing Committee, doesn't matter. The important thing is to energize our committees with individuals willing to take up the work. But none of this will go very far unless we also have a way to reach people. Thus, the Communications Committee is recommending that the clerks of our consistories be instructed to upload officers' contact information to our communications database.
Whether or not we establish a new Permanent Nominations Committee, it seems to me that we would still need a Standing Nominations Committee for committee assignments that come up during our meetings. Appointing new Special Committees from the floor would not be a good idea, and I personally would oppose giving this responsibility to the Executive Committee.
I also believe that we need to be careful about multiplying committees, lest we spread ourselves too thin. This could further dampen committee participation. Over the last few years, we have added four Permanent Committees — Finances, Investment, Communications and Welcoming. Similar concerns arise regarding our Standing Committees. Last year, I divided the Missions Committee into Home Missions and Foreign Ministries because its workload had become unwieldy. This year, we added a new Promotions Committee because the reports from the Permanent Communications and Welcoming Committees did not fall neatly into any of the existing Standing Committees.
Most of the recommendations in this year's Permanent Committee Reports concern the usual business these committees conduct year after year. The Welcoming Committee is a refreshing change of pace. At a minimal cost, the Communications Committee's advertising efforts have generated almost two dozen contacts for it to pursue. Though most of these will never join the RCUS, if only a few pan out, and it looks like some may, it will have been worth the effort. But the follow-up work is tremendous. I cannot emphasize enough that we need men on the Welcoming Committee who can give it a fair amount of attention.
Two specific items from the Permanent Finances report should be noted here, viz., a proposal to hire a part-time development officer and information regarding the Synod's EIN. The latter addresses a recurring problem that happens when individual congregations use the Synod's number incorrectly. The committee recommends that each congregation get its own FEIN by the first of the coming year.
We have only one Special Committee reporting this year — the committee to study Classis Boundaries. This committee is not recommending a change to the boundaries per se but seeks to amend the language of Article 95 of our Constitution to require only three Classes instead of four. It plans to bring further recommendations next year.
Other Matters
A few months ago, the Lord called two more of his servants home — the Rev. Gene Sawtelle and the Rev. Wesley Brice. Both men served the RCUS for many, many years, devoting themselves to the faithful exposition of God's Holy Word and the care of his people. We grieve with their families, but we also rejoice that they are now in the presence of their faithful Savior Jesus Christ, who died on the cross for their sins.
The passing of these two pastors brings us face to face with the fact that we are all aging and will soon be summoned into our Savior's presence. This year, at least four more pastors either have or are planning to retire, three of whom are seeking ministerial aid. But until the Lord calls us all home, we must give ourselves entirely to his service.
The Communications Committee reminds us that the three-hundredth anniversary of the RCUS is just three years away. But what about our next three hundred years? The Lord has guarded and protected our small denomination for a long time. Will he continue to do so? I trust that he will. Looking to the future, our Communications Committee has also brought our website up-to-date with a fresh, modern and inviting look and easy navigation.
Another overture coming before us invites us to aim high for the future. It asks us to consider a "new" model of ministering to small groups that other denominations may not be interested in simply because of their size or location. If we can make it work, I believe this will be a blessing both to us and to them.
It has been my pleasure to serve as your president for the last six years. Over the next few years, we'll face some interesting challenges as we implement recent decisions and continue to plot our way, but I trust the Lord to see us through. He is our refuge and strength, always ready to meet our needs for the sake of his Son, who reigns over the whole created universe for the sake of his church.
In the service of Christ our King,
Frank H. Walker
President