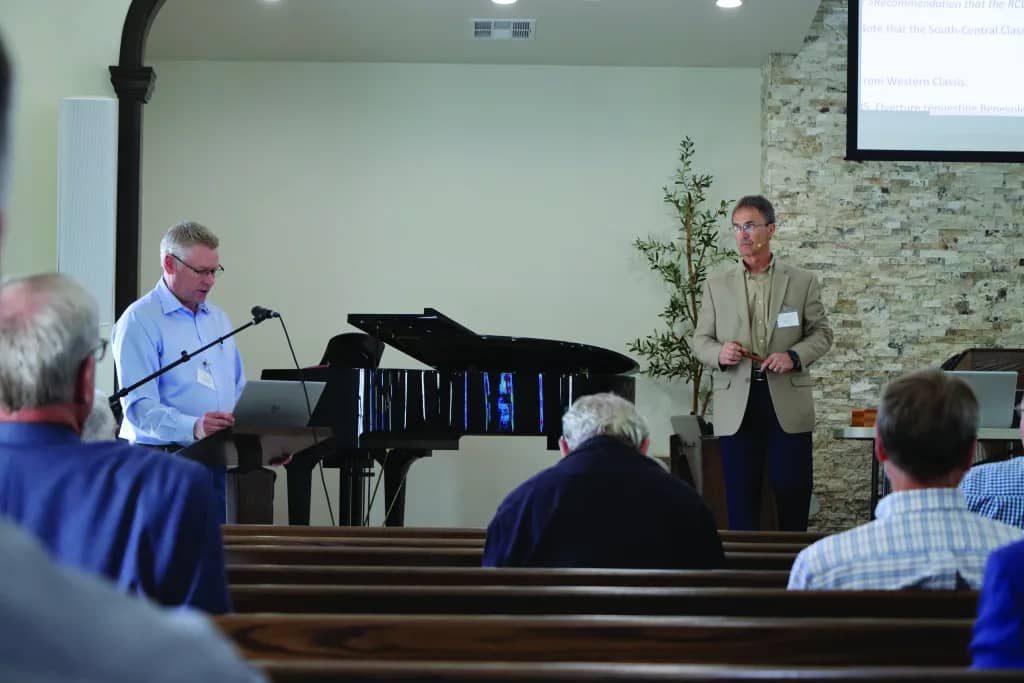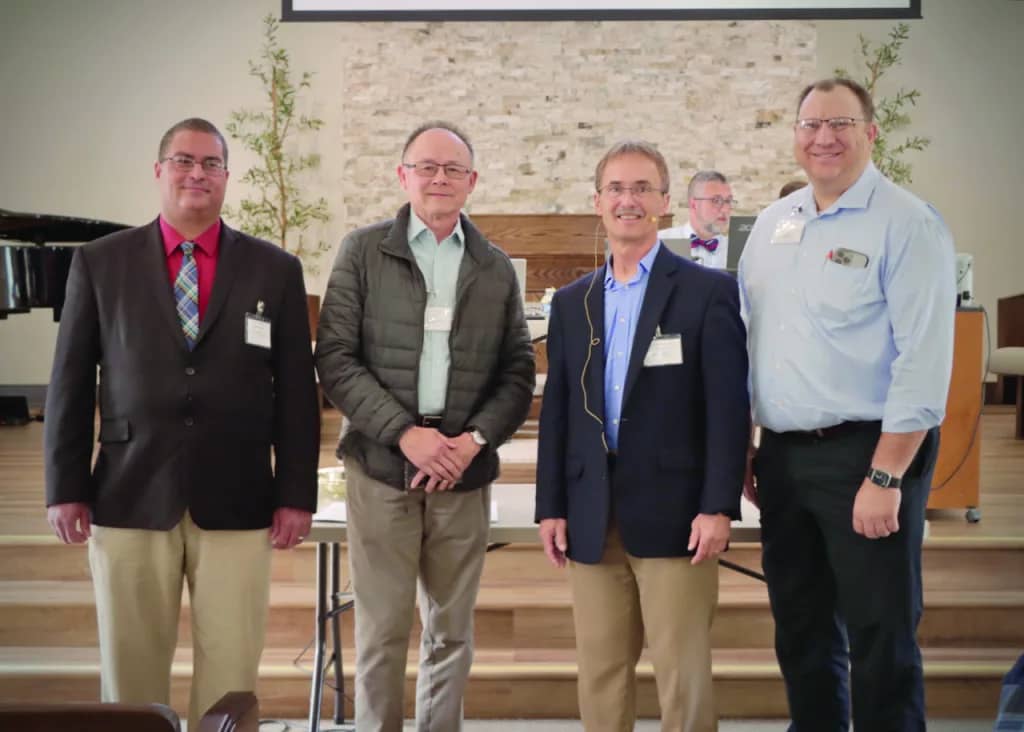 Esteemed Fathers and Brethren:
What a rich privilege it is for each of us to be appointed in the service of our Lord Jesus Christ through the church as pastors and elders. I marvel that God has taken us as ordinary men from out of our sins and miseries, redeemed us through Jesus Christ our Savior and not only set us on a path of thankful living for such redemption, but also placed us as shepherds and stewards of His church.
You can imagine, then, the state of my marveling a year ago when I was appointed to serve our Lord Jesus Christ and this highly esteemed body of the church as president. I cannot adequately describe the immense honor of such an appointment. This has truly been a humbling experience. Thank you for your prayers, for your grace and for your counsel. I also want to give thanks for the Executive Committee's iron sharpening iron. I hold each member in the highest esteem. Finally, I thank my Savior and King, Jesus Christ, for His everlasting love and grace.
Now for the state of the church. While weaving Classes reports, visits with Classis Presidents and permanent committees' activity throughout the report, here is what I believe to be the state of the church in terms of what is good, what are those opportunities for growth and a proposed vision for next year in reliance on the grace of God. But first, let me preface the report with the reminder of what the church is called to do.
The Great Commission
And Jesus came and spoke to them, saying, "All authority has been given to Me in heaven and on earth. Go therefore and make disciples of all the nations, baptizing them in the name of the Father and of the Son and of the Holy Spirit, teaching them to observe all things that I have commanded you; and lo, I am with you always, even to the end of the age." Amen. (Mat. 28:18-20)
This is our charter of work. Under the authority of Christ and in reliance upon the presence of Christ we are to make disciples as members of the church and to teach disciples to grow in sanctification. Everything else in the church has a direct link to the Great Commission and ultimately aims for all glory and praise to the Triune God and thus forms the basis for measuring how we are doing.
What is Good
The greatest strength of the RCUS by God's grace is the pure preaching of the Word of God. Each Classis President reported on the unwavering commitment of each pastor toward uncompromising Biblical preaching and teaching. I would add that in listening to many of our pastors in person or over Sermon Audio, I was greatly edified by Biblical truth being proclaimed from RCUS pulpits. This commitment was further exemplified as I observed the licensure exam at South Central Classis and the careful attention given to sound doctrine. Solid Biblical teaching and preaching is the very core of making disciples as one of the keys of the kingdom and teaching disciples toward growing in sanctification.
We have a rich heritage, one that is grounded in the Bible, rightly confessed in the creeds and confessions and in full reliance on God's Word and Spirit. Ours is a heritage passed down from our fathers who went before us and fought for the preservation of truth that is dutifully proclaimed in the Reformed faith. And so it is that we honor our fathers both in life and in death, such as with Rev. Jim West, whom our Lord called to his heavenly home from his service in this life.
There is also an acute awareness of missions both at home and abroad. Northern Plains Classis approved funding for a missionary. This move was on top of continued support for the church in Dickinson, ND. South Central Classis likewise demonstrated their commitment through unyielding support for the work in Gallatin Valley, MT, in addition to continued support for Omaha, NE. Western Classis continued support for Valle de Gracia and the important work of reaching our Spanish-speaking friends. Through several personal contacts, small Reformed groups of differing ethnicities were also introduced to the RCUS. As of this writing, one such group from Millbrae, CA, seems on the verge of joining the RCUS. Covenant East Classis continued support for the work in Pella, IA and found themselves on the front lines of working with churches in Pennsylvania and navigating through the nuances of bringing groups into the RCUS.
Through the tireless time, energy and effort put forth by the Permanent Foreign Ministries Committee, a well-organized team was divided into sub-committees that effectively built and maintained solid relationships, supported churches and trained up pastors in the Congo, Kenya and the Philippines while maintaining partnerships with Compassion Kenya, Reformation 2 Germany and Reformed Faith and Life.
While finances will always be challenging and can change in an instant, Synod has taken many steps to establish policies and practices to, by God's grace, provide a means for good decision-making. One such decision was the creation of the RCUS Endowment Fund that primarily serves to support ministerial relief and has since added other funds, such as missions and education, for which gifts can be dedicated. With the launch of the Mission 2025 campaign this last Synodical year, so named to celebrate the upcoming RCUS Tricentennial, an additional $442,500 in estate planning pledges, $56,000 in cash pledges and $16,200 in cash has been received for a total of $514,700 either pledged or given to the RCUS Endowment Fund, for which we praise God.
The Permanent Communications Committee continued to grow and is proving itself to be instrumental toward taking the Word of God beyond church walls. Taking advantage of multiple media platforms along with digitizing the Reformed Herald and supporting the Mission 2025 campaign, the amount of work this group accomplished, by God's grace, is astounding. This, too, lends itself to supporting the work of making disciples.
Opportunities for Growth
While the greatest mark of our rich heritage is the faithful preaching of God's Word, this also proves to be the greatest opportunity for growth. That is, the need to promote, protect and preserve those who faithfully preach God's Word.
Classis Presidents described in the President's Summit and further cemented in their respective President's Reports that our pastors are dealing with much stress. This stress comes from two primary sources: increased responsibilities and personal health. While the ministry of the Word carries a great burden that requires much devotion, that is not the cause for concern. I fear that we have historically placed a heavier-than-needed burden on our pastors by including many church administrative tasks and Classical and Synodical leadership duties on their already full plate of the ministry of the Word. To be sure, there are many pastors gifted in many areas of leadership who should be appointed accordingly. But as I sat in on committee meetings and reviewed committee rosters both in Synod and Classes, I was taken aback by the number of pastors serving on and/or chairing anywhere from 2-3 and up to 5 permanent committees, sub-committees or offices. This increases the time spent away from the primary task of ministering the Word (Acts 6:4) and/or time with wife and family. Thankfully, with good foresight, the 276th Synod approved and implemented the new Permanent Nominations
Committee, which identified an army of elders and deacons to step into permanent committees, sub-committees and yes, even offices as Covenant East Classis followed Synod's lead and elected Elder Dennis Luquette as president. All of this was a great response in that while the harvest is plenty, by God's grace laborers with many gifts have been added. However, we must be careful not to slide back into old habits and load down pastors with more and more responsibilities and instead use with discretion the gifts of our pastors while also taking advantage of the gifts given to our elders and deacons. The second source was likewise confirmed in Classis President's Reports and personal visits, our pastors are increasingly burning out, many are discouraged and several more face personal, family and marital concerns. This, too, has a direct bearing on the ministry of the Word.
Taking up this concern, the Permanent Christian Education committee has brought to Synod three proposals:
The recommendation for local Consistories to consider adopting an Extended Learning Opportunity plan for pastors to encourage further learning and growth; 2. Request for authorization to research, develop and propose recommended Pastor Sabbatical standards for local Consistories to consider; and 3. Request for authorization to research, develop and propose a means for giving pastors and their wives direct access to safe and secure Biblical counseling. All three of these proposals will help, by God's grace, toward addressing the growing burnout phenomena.
Perhaps the top opportunity of growth that sprinkled each discussion is in making disciples. With a back-to-basics
mindset, we remain mindful that faith comes by hearing and hearing by the Word of God (Rom. 10:17). Hence the focus is to spread the Word of God. This begins primarily in equipping and encouraging the saints in local churches to invite people to hear the preaching of the Word. We have a great opportunity in small towns, large cities and everything in between as people in our nation are scrambling for truth in a world gone mad.
Another opportunity before us is the great work that is being done through the Permanent Welcoming Committee and Reformed Group Network Sub-Committee toward connecting with existing groups desiring Biblical truth. But like so many innovations, it can get messy, as evidenced by concerns expressed by two of the Classes. However, with purposeful planning these messes, by God's grace, can get cleaned up. To that end this coming year should include a mission's planning summit with representatives from:
Permanent Home Mission committees of Synod and each of the Classes, 2. Executive Committees of Synod and each of the Classes, 3. Permanent Welcoming Committee and Permanent Communications Committee to set specific objectives, identify action steps and establish who does what in carrying out a coordinated effort to make disciples. This and the Permanent Home Missions Committee efforts to propose Home Missions Manual revisions will, by God's grace, advance clear and thoughtful planning and reporting of mission works.
Vision
Connecting what is good with opportunities for growth, I propose that our vision in reliance on God's Word and Spirit into next year is to: Resolutely remain unmoved in the pure preaching and teaching of God's Word and our commitment to the Three Forms of Unity as our doctrinal standards.
Staunchly promote, protect and preserve our pastors in the ministry of the Word. Establish a well-planned and coordinated effort among key committees and offices in both Synod and Classes to execute efforts to make disciples. Revitalize a sense of urgency in the local pews to invite others to church to hear the Word preached. Diligently carry out the responsibilities of each committee and office-bearer with purpose and efficiency knowing how each responsibility impacts the Great Commission.
Finally, with what appears to be a barren landscape that is marked by fewer communicant members and growing
contempt for the Christian church we must faithfully view as vast fields that are white with harvest. Now is the time to fervently heed the Great Commission and zealously reach out with the Gospel of Jesus Christ and with all our heart beg God for changed hearts.
The best part of this proposed vision is that we can take heart. Christ is with us always, even unto the end of the age
(Mat. 28:20). I share Rev. Frank Walker's conviction that he wrote in last year's President's Report that, "I am confident that the work of the church will continue to move forward because Psalm 46 assures us that God is our refuge and strength, a very present help in trouble (v. 1). He promises to be in our midst, helping us, and that right early (v. 5). The heathen may rage all around us, attempting to silence our voice, but the psalmist reminds us that God's voice causes the earth to melt."
Therein lies our confidence and therein lies our upmost desire to give God alone all the glory
In the Service of Christ our King,
Elder Roger Gallimore
President