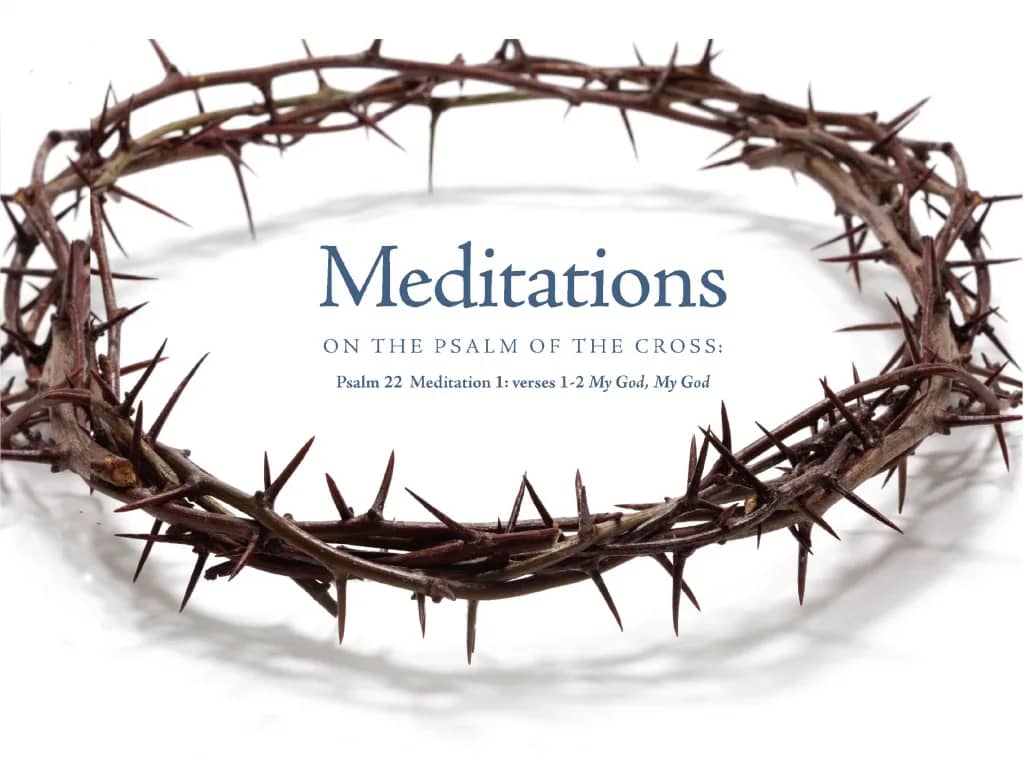 Introduction
This Psalm is one of the many Psalms which points us directly to a moment in the life and ministry of Jesus Christ. The part that we will consider is one that looks at His humiliation, which is to say it looks at Christ's suffering upon the cross. Keep in mind Jesus said in Matthew 27:46, with a loud voice, "My God, My God, why have You forsaken Me?" Therefore, we can call this Psalm a Messianic Psalm because it directly points us to a moment in the life of Christ. In other words, a Christian will read this Psalm and see Christ directly.

1. Forsaken Me—v. 1
1.1.A Psalm of David
To the Chief Musician. Set to"The Deer of the Dawn."A Psalm of David.
We must first consider this fact; David wrote these words
down. There are a couple of things to consider with this fact. First, David wrote this as a song, a melody for the worship of God. The composition was to be given to the chief musician, or to the director of music in the church at the time to lead God's people through this wonderfully written Psalm. David even includes the tone of the accompaniment the musicians were to play as the congregation sang the words of David in worship.
The second thing to consider is that David said all these words. It is okay to wonder what could have happened to David to say the words of this Psalm. At what moment in his life did David feel completely abandoned by God? The strongest possibility could be one of several times in his life- Saul seeking to kill him, maybe the time he lost his son because of the sin with Bathsheba, or when Absolom led a rebellion, or maybe when he drew up a census and God sent His wrath upon Israel because of this sin. Anyone of these moments could have led to David saying these words.
These words take on a completely different direction the moment we understand David is speaking prophetically. The New Testament and Jesus Christ recognize that this Psalm points to His suffering. Thus, every Christian reading this Psalm will fundamentally hear the voice of Jesus Christ upon the Cross crying out, My God,My God,why have You forsaken Me?
As we walk through this passage, we need to keep David in mind as the prophetic voice, as we recognize that his prophetic voice is the exact voice of Jesus Christ.
"God the Father is there to comfort you in His Word. God the Son is there to remind you in His saving Grace. And God the Holy Spirit is there to sustain you in the grace. Look to God for He is with you."
1.2. My Groaning
Why are you so far from the words of My groaning?
The reality of being forsaken by God is detailed with these next two lines in verse 1. The first part deals with God's apparent absence from David or Jesus Christ. To be forsaken is to have one's back turned away from you. As David cries out for help, David feels as if God is far from Him, far from helping him. This is not saying God is unwilling to help, or unable to help David, but David says God is far from helping him.
This is the way God's patience can feel at times. You stay up late praying for that same prayer request; praying for your loved one who seems to have left the faith, walking away from Christ, praying for that couple you know who are going through material struggles, or that couple who are having a hard time conceiving a child. How about the husband or wife who just lost their spouse, and their grief is still so hard to bear? You pray for grace, mercy, and peace but it seems that God is not providing. You pray for God to help, but there seems to be no help coming.
Therefore, David says his words; his groanings are far from God's ears. But this can't be true, can it? God is everywhere present. God is all knowing. God cares for His people. The Bible says and demonstrates that God hears our prayers, and He promises to answer our prayers. So, what does this passage have to say about this? We will consider the answer to this struggle in just a moment, but first we must consider verse 2 and the cry for God to Hear Me.
2.Hear Me—v. 2
3. Unanswered Prayers
2 O My God, I cry in the daytime, but You do not hear;
First, we need to see that David addresses God again and as we see that this is a very personal prayer. "My God" makes this personal. It is the personal nature of this prayer that makes it such a moving Psalm. This is true of verse 1 as it is true of verse 2. For David, for Christ, and for many reading this mediation, this is a personal prayer.
In other words, I wonder how many of us could say with David, I cry in the daytime. Think about it. How many times have you found yourself praying during the daytime for your children, for you ailing parents, for the economy, for the weather, for safe traveling mercies, and so on? We probably have a list of prayer concerns that pop up during the day that we simply find ourselves praying to God in the moment.
But then there is the next part of this verse. David says God does not hear his prayer. We must understand the agony David must be experiencing for him to feel like God does not hear his prayers. We need to take a moment and recognize David was limited in his understanding of God. This is during a time when David would plead to God to not let His Spirit depart from Him. Not only does David not have all revelation or the Bible with him, but he does not have the Holy Spirit with him in the same way we do today. We need to keep in mind that Jesus has not shown up and died for David yet. But David did look forward to a day of salvation and this is the main message of Psalm 22. There was a day coming, which we look back to, when Christ would take up David's prayer on behalf of David and of all His people while upon the cross. Christ was despised and rejected so that we can have the hope and confidence in knowing God will always hear our prayers. Before we can consider this more, we need to consider the rest of verse 2.
3.1.Night Season
And in the night season, and am not silent.
Not only does David find times in the day for prayer, but at this moment in his life, he is having sleepless nights praying to God for an answer. This reminds me of Martin Luther during the time of the Reformation. He would wake up and say he needed to pray because there was so much to do for the day. He would spend hours in prayer, and David is saying that he would pray all day, and then all night.
David was so burdened with grief and despair that he was unable to sleep. This is the dark night of the soul. This is when you have your own personal spiritual cloud over your head, and no one seems to understand. This is speaking of depression. It is true that some people when depressed will just sleep, but there is another type of depression which will cause them to isolate and simply cry alone. This is what David is describing. He is up all night praying and taking his worries and concerns to the Lord. In other Psalms, we find descriptions of David crying into his pillows.
David is explaining that all day and all night, he is in a season of prayer. We need to recognize that there are seasons of prayer. There are moments in our lives where we will find ourselves pray- ing more often than normal. For example, Hannah found herself in a season of prayer for a son. Her prayer was so intentional and as she poured out of her heart to the Lord words, she could not express her desire for a child. Her silent, emotional prayer was so strange to Eli the High Priest that he thought she was drunk. As she was there praying, crying, and spilling her heart's desire before the Lord in prayer, God heard her prayers and opened her womb to conceive a son whose name was Samuel.
I believe many of us can relate to this type of prayer. Whether you are praying to get pregnant, praying for a child, for a wayward child, for your parents, for your ailing parents, for help while you grieve, for help to find work, for help to pay the bills, for the economy, for politics, for peace, for answers to conflict and war, for our soldiers, for police officers, for natural disasters, wild fires, tornados, hurricanes, earthquakes, for those in school finals, or so many other things, these could keep us up at night in prayer. We find moments of great distress and moments of great joy. We have seasons of losses and crosses. It is in moments like this that we need to imitate Christ who would make His way to an isolated place for prayer. But as He got closer to the cross, He was not alone in His prayer. Jesus would take along His disciples to pray with Him. So, too, in the darkness of our nights should we include others in our sorrowful, tear-filled prayers.
Then, there are those moments of celebration. This Psalm will have moments of celebration, but for the time being, we are considering the sorrowful moments.
Conclusion:
As we come to a close of this meditation, we should understand, as Jesus spoke these words upon the cross, it is very likely that He had this entire Psalm in mind. The darkest night ever experienced by man is found with these words,"My God, My God why have you forsaken me?"
We need to understand that as Jesus expressed these words in the weakest moment of His life, He was uttering these words for you and on your behalf. He was saying this because it was true. In that very moment, God's wrath was poured upon Him. In that very moment, the wrath we deserved was poured upon Him. A hundred percent of God's wrath was poured upon Jesus the Christ, and He cried in a loud voice, this Psalm. Is this not amazing?
And yet, because Christ proclaimed this Psalm, it means that while we may have moments of doubt and loneliness, we can have this single confidence: God will never abandon us. He has no reason to when we are in Christ. In fact, the promise is given, I will never leave you nor forsake you. Did you read that carefully Christian? God will never leave you nor forsake you.
So, yes while you may have moments where it seems like your prayer does not leave the four walls of your bedroom, God will never leave you nor forsake you. Even though you may get depressed and at times worry about your destination, you can still know God will never leave you nor forsake you. Only the Christian will turn to God in prayer. And God will hear you and answer you.
God will do this because Christ prayed this prayer. Christ was forsaken so that we would not be. So, the next time you find yourself in a season of intense, hardship and prayer, remember God will never leave you nor forsake you because you are in Christ. Remember when words cannot express your burden, the Spirit of God prays on your behalf. Remember when there seems like there is no hope, Jesus is there for you, and He will not leave you alone. You are not alone. God the Father is there to comfort you in His Word. God the Son is there to remind you in His saving Grace. And God the Holy Spirit is there to sustain you in the grace. Look to God for He is with you.
By J.P. Mosley, Jr.
Professor of Biblical Studies and Systematic Theology
Heidelberg Theological Seminary
Sioux Falls, South Dakota