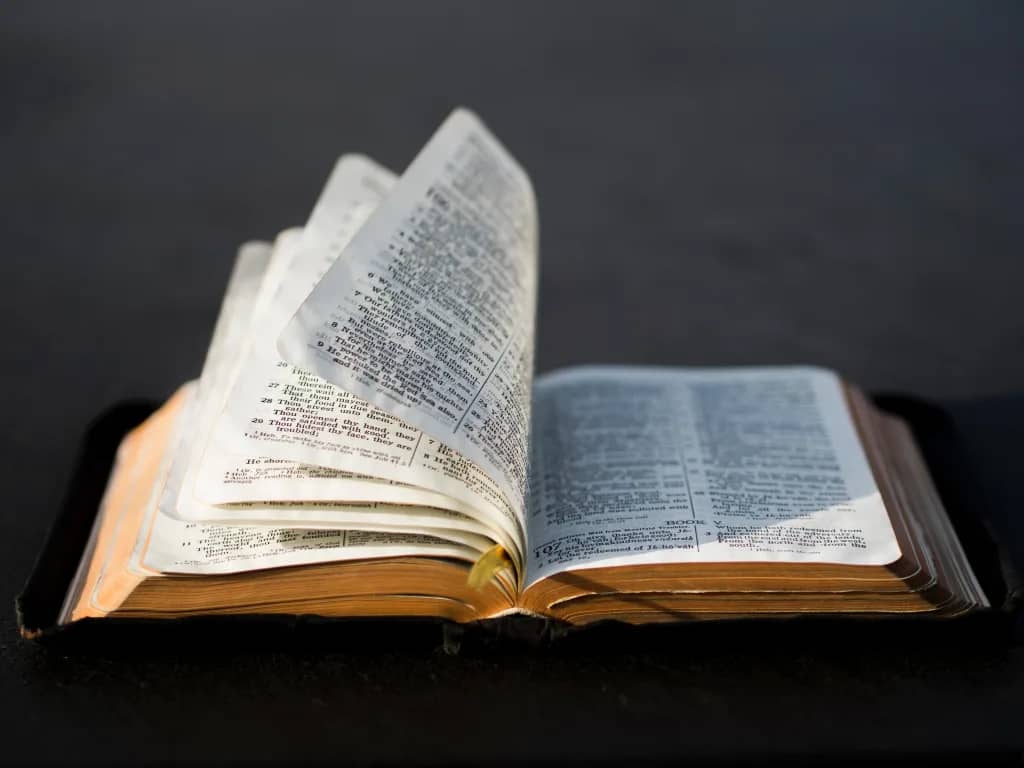 Wouldn't it be really handy if God provided a smartphone app that screened all your decisions, so you have certainty of not acting on a bad one. We might wish for God to provide that kind of certainty for every decision we make, because given our struggle with sin and living in a fallen world, can we have certainty that every decision you and I make is right and good?
Just the other day I saw this bold claim: "The Joy Of Certainty". That's actually the logo of California Psychics, which claims to be the "most trusted Psychic Network." Certainty is defined as the quality of being reliably true, something that cannot be doubted, being completely certain of the truth of something. "The Joy of Certainty". Isn't that appealing? Who doesn't want the joy of certainty!
Their claim is incredulous from a Christian perspective. What is reliably true but God and His Word? As those in whose hearts the Holy Spirit has witnessed that the Scriptures are from God, we believe the gospel's testimony that Jesus is the eternal Word that became flesh (John 1). Scriptures call Christ the Word because in His incarnation He is the fullest revelation of God. We believe His declaration "I am the Truth". And we believe that the Son of God was manifested for the purpose of destroying the works of the devil (I John 3:8). So we trust that Jesus' devil-defeating death and resurrection has set us free from the enslaving power of the deceiver, Satan. Certain, by faith, that God's Word is Truth, the Holy Spirit sent by Jesus guiding "into all truth" (John 16:13), and (Belgic #7), "that whatever man ought to believe unto salvation is sufficiently taught therein" (Scriptures), we Christians have certainty for living by faith.
But living by faith in these last days necessitates standing against the wiles of the devil, the deceiver (Eph. 6). Jesus prayed, for the sake of the ones He was about to redeem by His cross, that His Father would "keep them from the evil one" (John 17:15) and follows that with "Sanctify them by your Truth. Your Word is Truth". (John 17:17). Jesus wanted His redeemed to be strengthened and protected in their battles against the evil one; protected from the world he rules and all his evil schemes and strategies to undermine our certainty in the Truth. And since God's Word is the truth, then as we are abiding in it and, by Christ strengthening us, applying it to our lives, we will less likely be influenced by the wiles of the deceiver. As Proverbs 3:5-6 promised long ago "Trust in the Lord with all your heart, and lean not on your own understanding; In all your ways acknowledge Him and He shall direct your paths."
So no, there is no God-app that gives specific direction for every decision, but God provides wisdom by His Word, and as the Spirit sanctifies, and you lean dependently on God rather than your own fallible understanding, you're enabled to make right decisions no matter the specific circumstances. The Scriptures are sufficient for a life worthy of the gospel in every aspect of the Christian life, no app needed.
Would trusting in the certainty of a psychic's revelation, even paying for such, be testimony to a set-apart -to -God life? Could such certainty and its promised joy be a delusion of the devil? Is the desire to, and the seeking of, certainty where God's word's does not specifically provide it, a mistrust in the sufficiency of Scripture? Consider the claim of California
Psychics: "how a Psychic reading can change your life." "Whether you want to unlock a mystery, clear a path, or boost your inner power, our psychics are here to help you in matters of love, relationships, money, career and all the things that matter to you."
For us who belong to Christ Jesus our Savior and Lord, the things that ought to matter to us, the things which we ought to seek and set our minds upon are those things above where Christ is, not on things on the earth (Col.3:1-2). Decisions relating to things of this earth ought to be grounded in our certainty of being citizens primarily of the heavenly Kingdom.
The "joy of certainty" claimed by California Psychics ought to have no appeal to us whose joy of certainty is in the Truth that is Christ Jesus, our Savior and Lord. His Word is sufficient for conduct worthy of the gospel in all areas of life, including relationships, love, money, career, etc. The instruction of God's Word is clear for us who, by God's sanctifying grace, "live by faith in the Son of God who loved me and gave Himself for me" (Gal.1:20). He says: "Therefore, whether you eat or drink or whatever you do, do all to glory of God" (I Cor. 10:31). But the deceiver is always seeking to have us do all things for our own flesh's glory and uses his various hosts to undermine our certainty found only in Christ Jesus and His word. And the certainty of Christ and His Word brings joy to His redeemed: Jesus said (John 15:11): "These things I have spoken to you, that My joy may remain in you, and that your joy may be full."
But Christ's apostle Paul expressed his pastoral concern for the saints being deceived. The saints, those whom Paul, through the proclamation of Jesus Christ, had betrothed to one husband, so that Paul might present them as a chaste virgin to Christ (2 Cor.11:2). But listen to Paul: "But I fear, lest somehow, as the serpent deceived Eve by his craftiness, so your minds may be corrupted from the simplicity that is in Christ. For is he who comes preaches another Jesus whom we have not preached, or if you receive a different spirit which you have not received, or a different gospel which you have not accepted – you may well put up with it!" (vs.3-4), underline for emphasis).
Wow! The bride of Christ, the redeemed ones, who accepted the Jesus of the apostle-preached gospel, might well put up with, conform to, go along with, surrender to, give in to spirits of this world, to teachings, and proclamations that corrupt the mind that had been set on Christ Jesus. And notice, who's the instigator? The same serpent whose craftiness had Eve question the certainty of God's Word. Satan is still seeking to have us Christians, in our day, doubt God's Word and seek the joy of certainty from the world that appeals to our sinful flesh, whether it be by the bold claims of Psychics, or by voices from within the visible church that undermine the certainty of Scripture in matters not only of its authority and sufficiency but then of salvation by grace alone through Christ alone through faith alone, to the glory of God alone, and life issues such as gender identity, family, marriage, and love (not an exhaustive list!).
Paul fears the saint's minds may be corrupted from the simplicity that is in Christ. Most basically, he means corrupted from single-hearted devotion to Him, from pure and unmixed attachment to Him, from holding on to the simple, perspicuous truth He taught via His gospel. Let us not be those who well might put up with the devil's deceptive wiles, whatever hosts he might use. Let our minds not be corrupted from the simplicity that is in Christ. He and His Word are sufficient for the joy of certainty.
George Horner
Westminster, CO
Thanksgiving for Trinitarian Grace | Under the Shadow of the Almighty