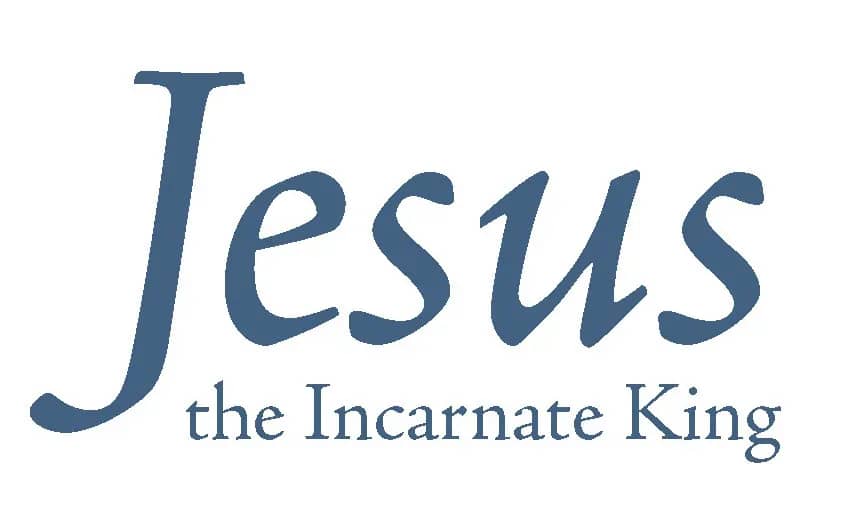 The Christian church is the church of the "Last Days", anticipating with longing the relief of transitioning from Church Militant to the glorious Church Triumphant at Christ's return, enjoying then the full blessedness of eternal peace in the new heaven and new earth (2 Peter 3). As we who believe, confess, and commemorate the historic first coming in the flesh of Christ, the Son of God, we do so in the present reality of Christ Jesus already exalted to glory as the King of kings and Lord of lords (I Tim 6:15). The apostle Paul gives a helpful linkage from incarnation to exaltation (I Tim 3:16) earlier in his first letter to Timothy:
And without controversy great is the mystery of godliness:
God was manifested in the flesh,
Justified in the Spirit,
Seen by angels,
reached among the Gentiles,
Believed on in the world,
Received up in glory. (NKJV)
So even as we celebrate Christ's coming in the flesh to be our Savior, we confidently may sing "Jesus the Savior reigns, the God of truth and love; when He had purged our sins, He took His seat above. His Kingdom cannot fail, he rules o'er earth and heav'n." (from Trinity Hymnal #310). Before His ascension, Jesus, the God-man, declared (Matt.28:18) to His disciples: All authority has been given to Me in heaven and on earth. Jesus Christ has the right and responsibility to govern all things in heaven and upon the earth. Heaven's throne, where Jesus sits, has authority over the creation, the entire cosmos, over things visible and invisible, whether thrones or dominions or principalities or powers, for all things were created through Him and for Him (Col 1:16). No institution on this present earth is excluded from the exalted God-man's sovereign rule. As Eph.1 states, God the Father of our Lord Jesus Christ raised him from the dead and seated Him at His right hand in the heavenly places…and He put all things under His feet and gave Him to be Head over all things to the church which is His body. Jesus the King's reign, His all-encompassing dominion, is for the sake of His and His Church's glory, gathering and defending her, as she is yet the Church Militant, against the rulers of the darkness (Eph 6:12) on her way to her decreed, promised triumphant glory and peace (Rom 8:18, Eph.1:1-14, Rev.7:9- 17; 21:1-7).
The Heidelberg Catechism we use to confess our faith speaks, because it is based on the Scriptures teaching, of the inclusive rule of the exalted Christ Jesus: Q&A #50: Why is it added: "And sitteth at the right hand of God"? Because Christ ascended into heaven for this end, that He might there appear as Head of His Church, by whom the Father governs all things.
When we, who are by grace through faith members of Christ's church, commemorate his coming in the flesh to gain our eternal kingdom inheritance, we yet do so as the Church Militant. So it's comforting and encouraging to think about our exalted Head's all-encompassing authority over this present world.
As Jesus was proclaiming His sovereign authority to His disciples, it was in the context of giving His Church the great commission (Matt.28:19-20): Go therefore and make disciples of all the nations, baptizing them in the name of the Father and of the Son and of the Holy Spirit, teaching them to observe all things that I have commanded you; and lo, I am with you always, even to the end of the age."
Disciples of Jesus Christ are those who are self-consciously seeking to submit their lives to His rule, as He (God) works in them to will and to do (Phil.2:13). Such discipleship is evident by the good works that are the workmanship of God (Eph 2:10), the fruit of being engrafted into Christ ( John 15:1-8). Good works, as we confess via HC #91, are those only which proceed from true faith, and are done according to the Law of God, unto His glory, and not such as rest on our own opinion or the commandments of men. Such discipleship, as flawed as it yet is on this side of the resurrection (see Rom. 7:14-25) yet serves to make Christ's rule visible. Living as repentant, running-the -race- with- endurance- looking-to- Jesus saved sinners, the Church Militant exhibits a stark contrast with the idolatrous culture that exhibits its unwillingness to bow to the rule of Christ.
As Paul, an apostle of Christ Jesus our Mediator King, appeals to his brother saints (Rom.12:1-3) by the mercies of God, to present your bodies as a living sacrifice….to not be conformed to this world…. this world is the culture in rebellion against its Creator God, very applicable now. Speaking particularly of the United States, in our present day there is a "public moral order" which is no longer influenced by biblical morality. To highlight: as especially acknowledged and even intolerantly promoted nowadays, the various forms of non-binary sexuality makes a mockery of the male/female distinction God made at the creation; criminals are not punished; non-"progressive", non-"woke" opinions are not tolerated in the workplace and media; Christ's creational social order is paganized by the courts recognizing same-sex marriage as a civil right; the Christian work ethic is displaced by a fostered entitlement mentality; the medical profession is adopting LGBTQ ideology as normative; public school children are stimulated to "queer imagination"; tax dollars pay for the abortions of illegal aliens; the constitutional political election process is manipulated to allow for fraud; Economic policies renounce fiscal stewardship.
This is not news to most of us who are already dismayed by the relative speed at which Christianity has been made an outlier in our culture. This world to which Christ's Militant Church is not to be conformed demonstrates its lack of the fear of the Lord in its worldview and practices.
But we whose allegiance is to Christ Jesus the King of kings, we who fear the Lord, we whose faith in Him assures us of His sovereign rule, we, His visible church, are called to make disciples of all the nations. Those who do not fear the Lord are not to be left uncompassionately to their idolatry, whatever form it takes. The gospel is to be boldly preached and witnessed by the visible church to make disciples of Jesus Christ the King. Let's be reminded of what happened in Thessalonica through the gospel preached and witnessed (I Thess.1:8-10): For from you the word of Lord has sounded forth not only in Macedonia and Achaia, but also in every place. Your faith toward God has gone out, so that we do not need to say anything. For they themselves declare to us what manner of entry we had to you, and how you turned to God from idols to serve the living and true God, and to wait for His Son from heaven, whom He raised from the dead, even Jesus who delivers us from the wrath to come.
Christ Jesus rules over all things. He rules not only over all principalities and powers, but He rules over the church, for the church, and also through the church by its proclamation of the gospel that equips the saints for ministry (Eph 4:12). Let us be indeed the salt of the earth, witnessing Christ Jesus the only Savior of sinners and King of kings, with a fervent desire to turn idolators to the comfort found only as an abiding disciple of Jesus Christ.
"He sits at God's right hand till all His foes submit and to his command
and fall beneath His feet. Rejoice in glorious hope! Our Lord,
the Judge, shall come, and take His servants up to their eternal home.
Lift up your heart, lift up your voice! Rejoice, again I say, rejoice!"
(from Trinity Hymnal #310).
George Horner
Ridgeland, SC