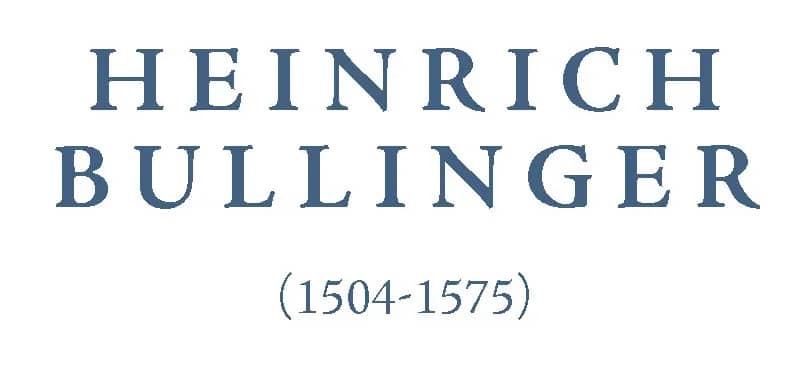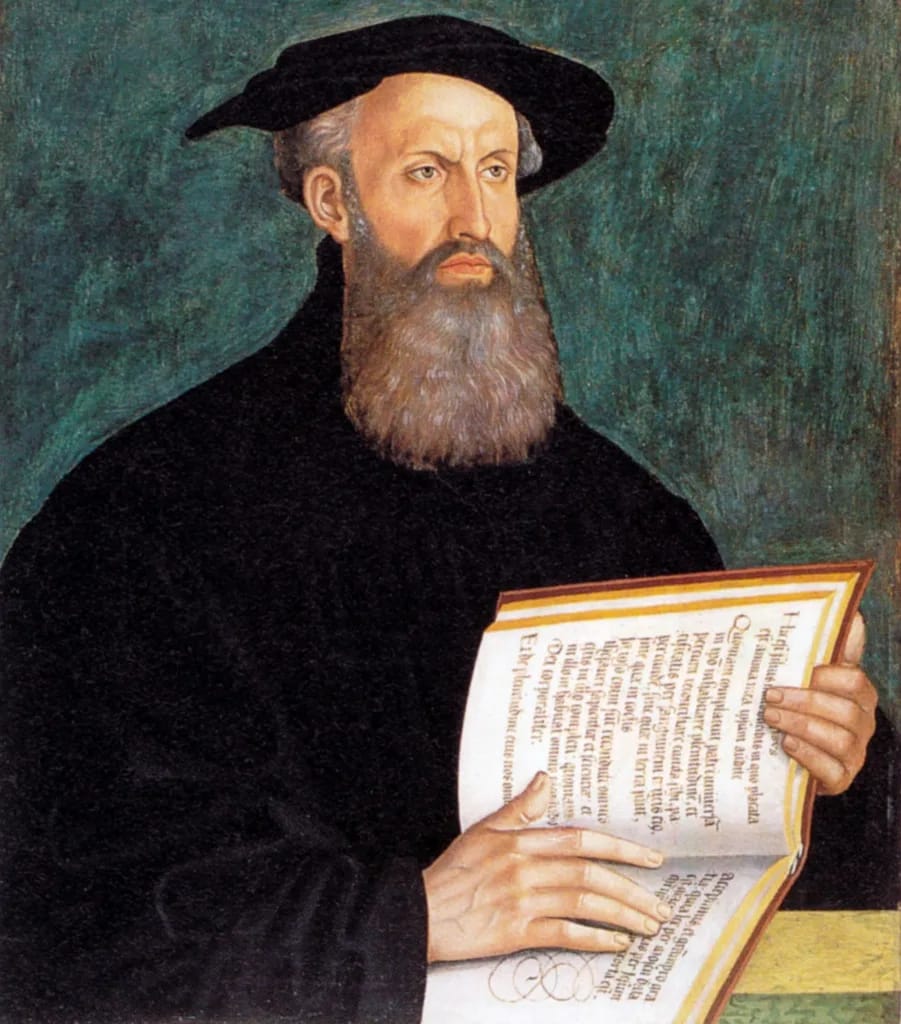 When I was busy earning my M.Div. back in the mid-1970s, I heard nothing about the Swiss Reformer, Heinrich Bullinger (1504-1575). Perhaps, unsurprisingly, you have never heard his name mentioned in connection with the Protestant Reformation either. I do seem to recall that in my Church History courses the name of Huldrych Zwingli was mentioned when we were dealing with the Reformation, but only in the context of this death at the Second Battle of Kappel in 1531 and that his views of the sacrament of the Lord's Supper erroneously taught that it was only a memorial meal.
Bullinger was Zwingli's successor in Zürich and labored there as Zürich's pastor of the large Grossmünster church for forty-four-plus years. In point of fact, Bullinger was a very accomplished scholar, a great preacher, an excellent teacher, a churchman, and a lover of God's people. He was a pastor of the people, not shunning, avoiding, or neglecting his congregants.
His sermons, commentaries, and correspondence are voluminous. Furthermore, I am convinced that his two-volume work entitled the Decades is on a par with Calvin's Institutes and, at many points, excels Calvin's famous work. His 1534 treatise on the biblical doctrine of the covenant is still cited and effectively used by many today. He was quite instrumental in co-authoring the Consensus Tigurinus (the Consensus of Zürich) along with John Calvin, which was the document that quelled the controversies surrounding the doctrine of the Lord's Supper. He was the sole author of the magisterial Second Helvetic Confession, and yet—and yet, he remains unknown except in a few circles.
In the words of David Steinmetz, Bullinger, along with many other Reformers constitutes what may be termed a "Reformer in the Wings." That is, for whatever reason, by many he has been relegated to the dustbin of history. He should not have been. He is far too important for us to neglect. In this and following articles, I want to present you with what I am going to call one of Bullinger's "vernacular" writings. That is, it is not a technical theological treatise, but rather it is a work that was intentionally and specifically designed for the man and woman in the pew and on the street. Bullinger is not alone in being relegated to the"wings" of Reformation history, but I also believe it is time to take a closer look at some of these men and to appreciate what they contributed to the period in the sixteenth century that we call the Reformation. Allow me, therefore, to begin with a brief explanation of Bullinger's early years and then move on to valid reasons why I believe Protestants need to become more familiar with his most important works.
Bullinger's Early Life
Heinrich Bullinger was born in the Swiss village of Bremgar- ten on June 11, 1504. He was the youngest of seven children belonging to Heinrich Bullinger (Senior) and his "wife," Anna Wiederkehr. I placed the word wife in quotation marks because Heinrich and Anna were not officially married. Father Heinrich was the village Roman Catholic priest (Leutpriester) and priests were not permitted to marry. Instead, the Roman Catholic Church allowed what they termed a "cradle or concubine tax." When young Bullinger began keeping his diary there are numer- ous entries about the very loving nature of the family in which he grew up. He spoke frequently about how his father and mother deeply loved one another and were faithful to one another. He also mentioned discipline, but also of their abiding love for their children.
When he was barely five years old, he was enrolled in the local Latin school, where he learned his lessons well. The discipline that he was learning at home was augmented by the instructors at the school. When he reached the age of twelve, his parents decided that he should enter St. Martin's Latin School in Emmerich, Germany close to the Dutch border. He and his cousin, Michael Wüst, who was also twelve traveled together. Their primary means of transportation was their feet. They walked. When they arrived in Emmerich, they were a few days short of one-month travel time.
The Latin school had an excellent reputation and Heinrich's older brother, Johannes Reinhart, was already there. While father Bullinger could easily afford providing tuition and room and board, he had trained young Heinrich in singing. Therefore, Senior paid for everything except Heinrich's food. Thus, he literally was required to "sing for his supper." Bullinger wrote later in his diary that having to beg by means of singing was a very good life experience, teaching him empathy for the plight of those who truly lived in poverty and convincing him that he did not wish to spend the remainder of his life begging. All around, it was an excellent"lived experience." Briefly, Bullinger entertained the idea of entering a monastery.

Following his time in Emmerich it was decided that he would earn his bachelor's degree in Cologne, Germany, which, at the time, was called"Germany's Rome." Such was the influence of the Roman Catholics in that large city. The Dominican and Francis- can orders had monasteries in Cologne. They held opposing views on most things. For instance, the Dominicans were adherents to the theology of Aquinas and taught that the Christian religion was a matter of logic. That was understandable since Aquinas was a proponent of the amalgamation of Christian theology and the philosophy of Aristotle. The Franciscans, on the other hand, followed the teaching of the Scotsman, John Duns Scotus, who made the Christian religion a product of the will.
Once again, Heinrich's brother, Johannes, had preceded him to Cologne. It was there that Bullinger demonstrated what a precocious student he was. He finished his bachelor's degree in one year. The program usually required three years of study. In addition, Bullinger memorized all 9,900 lines of Virgil's Aeneidin a remarkably short amount of time. Even though he was not officially enrolled as a theology student, he began to be intrigued by theology and began studying the church fathers on his own. He also purchased his own Greek New Testament and began to study Greek in earnest, all the while working on his Master's degree. Erasmus of Rotterdam, a humanist scholar who had pub- lished the Greek New Testament was also a professor in Cologne at the time. The writings, lectures, and commentaries of Martin Luther were "trending" during this time and Cologne was the first city in Germany to burn Luther's books. Ironically, Erasmus was almost as critical of Rome as Luther was, but the former happened to be a personal friend of Pope Leo X, who had found Erasmus's critique of Roman Catholicism Praise of Folly amusing. When Leo leaned on Erasmus about teaching the"New Theology," however, Erasmus caved, desiring the life of the traveling academician to debates about finer points of theology. Nevertheless, ecclesiastical change was occurring even in staunchly Cologne.
Bullinger's Theological Development and Later Life
Bullinger completed his Master's and returned home to Bremgar- ten in April of 1522. He was somewhat apprehensive about his return, wondering how his father, a Roman Catholic priest, would respond to young Bullinger's new views on theology. He was welcomed home with open arms. Within a very short amount of time, he received an offer to be the superintendent of a monastery in the Black Forest in Germany. He traveled there for the interview and was appalled by the laziness of the monks, their inability to read, write, and understand Latin, and their immorality. He declined the offer and returned home highly disappointed.
After a short while, January of 1523 to be exact, Bullinger received another invitation to interview as schoolmaster and educator of a Cistercian monastery in Kappel, which was a mere three-hour walk from Bremgarten. This interview proved not only to be different, but in a very real sense, it was life-altering for Bullinger. The Abbot of the monastery, a man named Wolfgang Joner, was on the same page theologically as young Bullinger and wanted to see the monastery reformed.
Following the interview, Joner offered Bullinger the position on the spot. Bullinger accepted but presented Joner with a litany of things he would not do. First, he would not participate in the Mass that was held at the school. Second, he refused to participate in the monkish chanting that occurred daily. Third, he would be excused from all monkish duties. Forth, rather than participate in the Roman Catholic activities and requirements of the monastery, Bullinger would be given ample time to read the Scripture and for prayer. There were many other items that I will discuss in a moment, but those were the most important for Bullinger at the time. Joner was delighted and Bullinger would spend six very productive years in Kappel. How were they productive? Allow me to provide some concrete examples.
As in the Black Forest, Bullinger quickly learned that most of the monks were severely deficient in Latin. This forced him to have to teach them in Swiss-German and in quite simple language, since they truly did not comprehend many/most theological concepts. In addition, Bullinger wanted to educate the young children in Kappel and the surrounding villages, so he introduced an early morning catechetical instruction class for them. He added Bible studies for the monks and was encouraged by the monks to preach to them also in Swiss-German. His preaching became so popular that the monks began inviting parishioners from neighboring villages to come and listen to Bullinger's sermons. All the while, Bullinger continued to revise the curricula of the monastery and its theology, but an added advantage was that the laity began to hear and to learn things they had never heard before. During his time in Kappel, enormous spiritual growth occurred at all levels. This small beginning would have a profoundimpact on the Reformation in German speaking Switzerland. In his diary, Bullinger wrote that his six years in Kappel were one of the happiest times of his life. But God had more—much more—for Bullinger to do for the Kingdom of Christ.
Without a doubt, Kappel was a watershed experience for both Bullinger, Joner, who eventually left Roman Catholicism, the monks, the young catechism students, as well as the laity from the surrounding villages. It was a time of exponential spiritual growth for many. Bullinger intentionally and intensely taught modern orthodox theology to those willing to listen. Keep in mind that Bullinger was a mere eighteen-years-old when he began in Kappel. In a very real sense, it was Bullinger and not his good friend Zwingli who was the first to teach Reformation theology in Switzerland. Zwingli would not begin his theological school in Zürich for two more years.
Bullinger's intention was not to start a new church. What he en- visioned, along with the rest of the Reformers, was merely to con- tinue God's Church by reforming her according to the scriptures. Throughout the time of the Reformation the "invisible hand" of God was working through a most miraculous providence.
One example will suffice: In 1522, Huldrych Zwingli penned a work that bore the title"The Clarity and Certainty of the Word of God." Zwingli and Bullinger first met in 1523 and they became close friends in spite of the age difference. Zwingli delivered it as a lecture/sermon to a nunnery in Oetenbach, Switzerland. The nunnery had been all but completely closed down and there were only about four or five individuals still there. One of them was a young woman named Anna Adlischwyler, who was tending her aging, eccentric, and elitist mother, Elizabeth. Zwingli's sermon resonated with Anna and she moved into the Reformed camp. Anna would eventually become Heinrich's wife. They met in Zürich in the summer of 1527
Following his profitable time in Kappel, young Bullinger took the position of pastor in his birthplace of Bremgarten. While serving as the pastor there, Bullinger exerted his efforts in furthering the truths of the Reformation. His efforts spilled over to the surrounding areas and the Roman Catholics noticed the progression of his labors and how so many were embracing the Reformed faith and threatened reprisals. Zürich counteracted with an embargo on the heavily Roman Catholic "Forest Cantons." That did not work well. On October 12, 1531, the forces of the five Roman Catholic cantons declared war and defeated Zürich in the Second Battle of Kappel. Not only did Zwingli and numerous Reformed pastors die that day, but Bremgarten was also in dire straits. Bullinger and another pastor were forced to flee to Zürich, leaving Anna, the children, and a housekeeper behind. Anna proved to be quite a woman.
She had the housekeeper feed the occupying troops. While they were busy eating, she gathered the children and escaped out of the backdoor. When she arrived at the city gate, she found a guard and the gate locked. She wrestled the keys from the guard, unlocked the gate, and walked the twenty miles to Zürich to be reunited with her husband.
Bullinger became the successor of Zwingli at the church known as the Grossmünster and served there as the pastor for almost forty-five years. He demanded and eventually received full permission from the city council freely to preach from the entirety of the scriptures. He continued the School of the Prophets that Zwingli had begun. Both men believed that a "prophet" in the New Testament sense of the term was the pastor. As he had done in Kappel and Bremgarten, Bullinger aimed as excellence as the superintendent (Antistes) in Zürich. As educated and scholarly as he was, he refused to make use of his academic title, preferring rather to be called "pastor" or "minister of the Word of God."
He was a prolific writer and the archives in Zürich contain over twelve-thousand pieces of correspondence. He wrote a defini- tive work on the biblical doctrine of the covenant entitled "The One and Eternal Covenant or Testament of God" in 1534, two years before Calvin even began his reforming work. In addition, Bullinger outlived Calvin by eleven years. In 1549, Bullinger and Calvin completed a work that was designed to ameliorate the controversies among the Reformed regarding the Lord's Supper, called the Consensus Tigurinus, Tigurinus being the Latin word for Zürich.
From 1549-1551, Bullinger worked on his magisterial theological compositions called The Decades. These are available in English through Reformation Heritage Books in two volumes. As I have researched Bullinger and am currently writing a two- volume work on his life and theology, I can attest that The Decades are as good, if not better, than Calvin's Institutes.
Bullinger was the sole author of the Second Helvetic Con- fession, which is an excellent commentary on the Heidelberg Catechism. The Second Helvetic Confession was widely used throughout Europe and beyond. In fact, every Reformed church in Switzerland embraced it, except Basel. Bullinger was also intimately involved with many in the English Reformation and many English-speaking students came to him in Zürich for instruction.
Bullinger's Final Days
Bullinger was a man who knew great joys and heart-rending grief. On September 25, 1564, his beloved Anna was called home to God. Bullinger had once again contracted the Black Plague and Anna was his nurse. She caught it from him and died nine days later. In rapid succession numerous family members, his housekeeper, and his colleagues died in relatively quick succession.
In 1569, Bullinger was struck again with a most severe illness. It was so severe that Bullinger wrote many friends that God was preparing to take him home. He was wrong—that time. By November 1574, Bullinger had been so sick for so long that his human frame was reduced to skin and bones and by many accounts he was unrecognizable by those who had not seen him for a few years. Nevertheless, he continued to preach and even advised Theodore Beza during that time. On August 16, 1575, following months of excruciating and acute suffering it was clear that his earthly race was nearly finished. He called all the ministers, professors, and teachers in Zürich for his last teaching and final farewell. On September 17, 1775, he prepared himself for the night and passed peacefully in his sleep. He was buried the next day, a Sunday, in a grave next to his beloved Anna.
Heinrich Bullinger is truly a "forgotten Reformer," who should not be forgotten. He served God's Church well and we can read his insights and wisdom in those works that have been translated into English. It is my heartfelt prayer that the contemporary Church will take up those works and learn from one of the great theologians of the Reformation.
Dr. Ron Gleason, Ph.D.
Bluffton, SC
(Most recently, Dr. Gleason served as interim pastor of Covenant Presbyterian Church of the Lowcountry, OPC, Bluffton, SC)