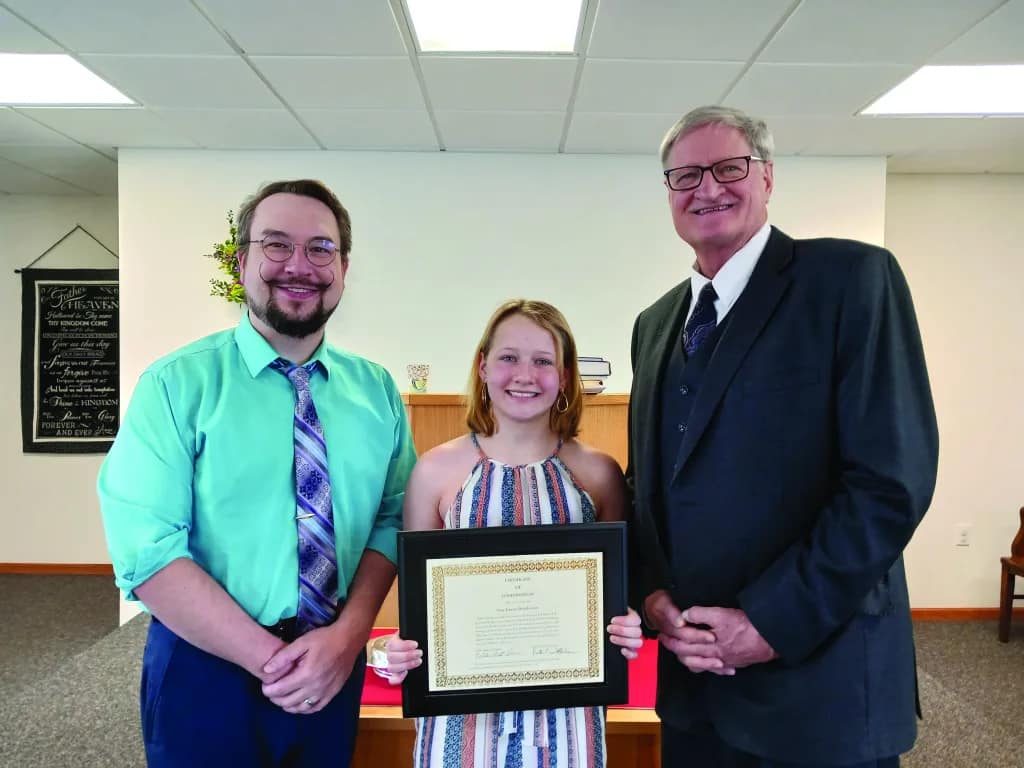 Hope Reformed Church at Pierre, South Dakota
The saints at Hope rejoice in the Confirmation of Miss Amy L. Henderson, daughter of Paul & Tina Henderson, who was confirmed on March 12, 2023 at Hope Reformed Church at Pierre, South Dakota. She gave a wonderful presentation of her work over the years and a testimony  of her faith in Christ.
Over the years of going through the Catechism, I have grown close to Christ, and learned more about His person & work in depth. It has already been a blessing for me to have grown up in a Christian home, and have a Christian up-bringing. But it has been a further blessing to be able to go through the Catechism,
and memorize it, even though I did not always like having
to memorize it.
I hope to further grow closer to Him, continue to know Him better each and every day, and to grow in my faith towards Him!
She was presented with her Confirmation certificate by Elder
Matt Fickbohm and her Pastor, Rev. Paul H. Henderson. 
Rev. Hendo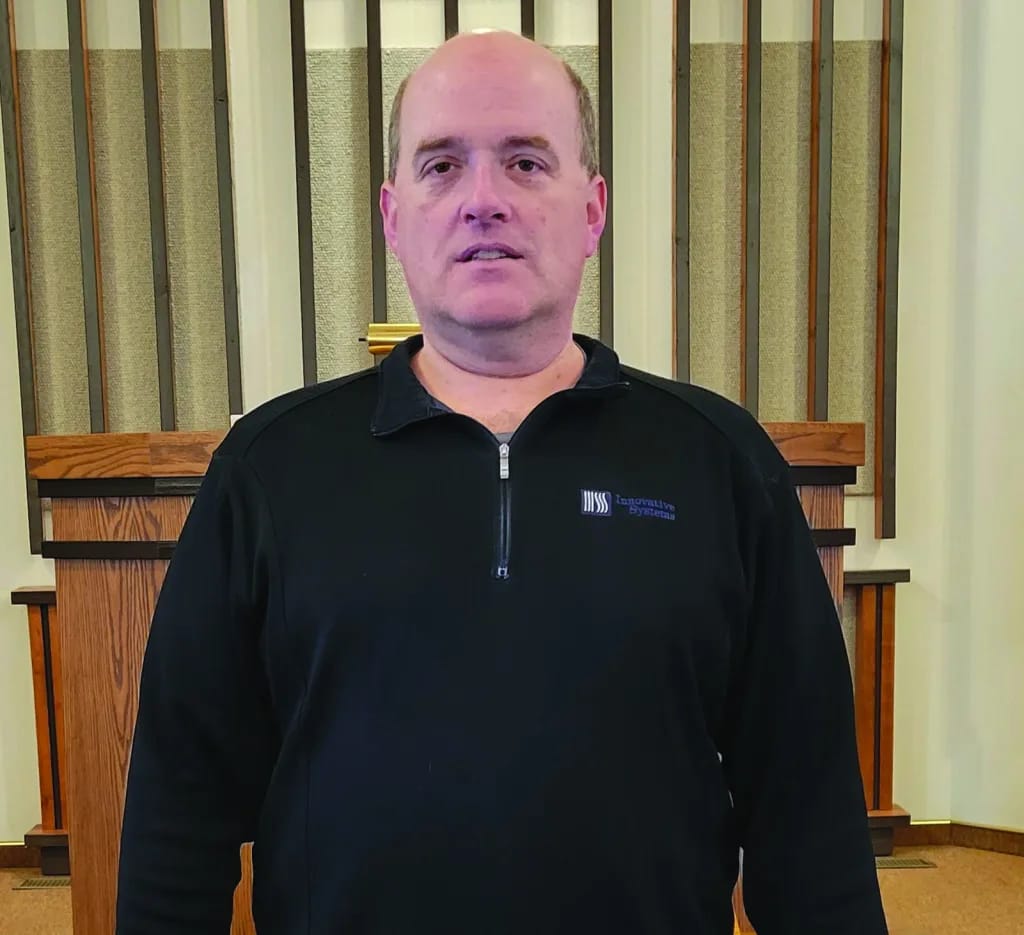 Grace Reformed Church (Mitchell)
Grace Reformed Church (Mitchell) is pleased to announce the ordination and installment of Mr. Mark Strong as a new elder. Mr. Strong and his family have been long-time members of Grace. We praise the Lord for his addition to the Consistory.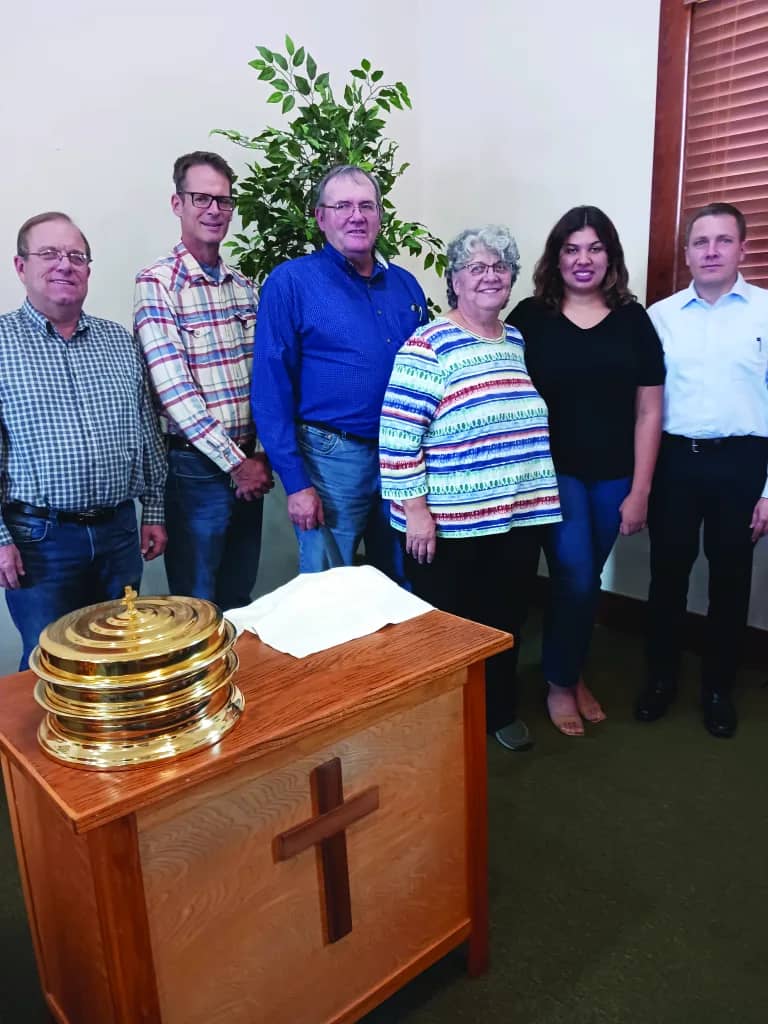 Limon Providence Reformed Church
Taelar Logan ( 5th from Left)  was confirmed in November 2022, and is now a full communicant member of Limon Providence Reformed Church.
Pictured L-R:Elder John Savage,  Elder Ted Schieffelin,  parents David and Sheri Logan, Taelar Logan,
Elder Chris Bradley.
Covenant Reformed Church in Manhattan, Montana
Covenant Reformed Church in Manhattan, Montana, a mission work of the South Central Classis under the oversight of Zion Reformed Church, Menno, SD, and the  support also of the RCUS Synod, is pleased to announce, with thanksgiving to the Lord, the following actions that took place on June 12, 2022:
The regularly attending communicant members of Covenant Reformed Church (Manhattan) were received as members of Zion Reformed Church ( Menno).
Isabel, Ruby and Dillon Westra were confirmed by Profession of Faith following confirmation exam by Rev. Travis Grassmid and Elders Daniel Mettler.  The delegation from the Zion Consistory also included Deacon Kent Mehlhaf.
Hollis, Ruth and Elsa Westra were baptized by Rev. Travis Grassmid.
Covenant Reformed Church rejoices in the Lord's goodness to this mission work that He has established and covets prayers
for its growth, provision and making disciples of the Lord Jesus Christ here in the Gallatin Valley of Montana.
Deacon Jacob Larson and his wife Tatiania Larson with their baby Joshua Alexander Larson being baptized. Rev. Chuck Muether baptized Joshua with Elder John Larson supervising. Rev. Muether and Elder Larson are Joshua's grandfathers.