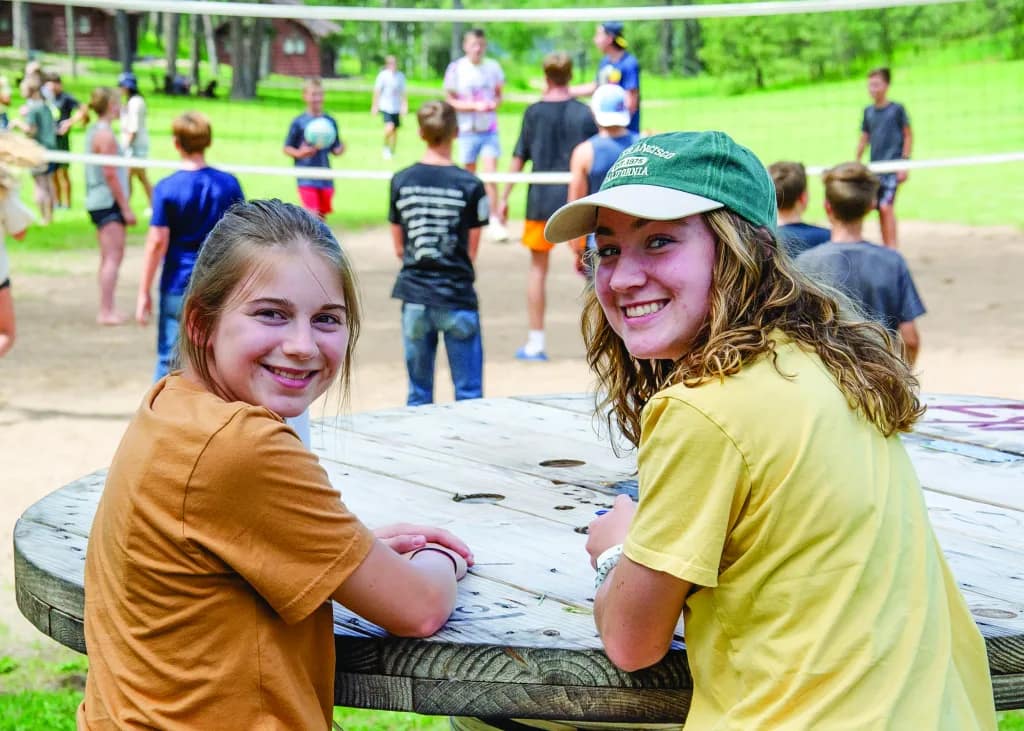 HYC is what most young people in the RCUS consider to be the highlight of their year, and HYC 2023 did not disappoint. With 136 campers attending this year, there was no lack of fun and excitement. This year also marked Matt and Heather Fickbohm's 10th year as the dynamic duo in charge of HYC! Praise God for His faithful servants!
Campers and counselors alike arrived Monday to a wonderful taco salad dinner. As always, the meals prepared by head chefs Warren and Laura Nuss continue to be as delicious as ever. Much gratitude to all the cooks serving this year! Following supper, the campers were briefed in orientation about staying hydrated throughout the week and were formally introduced to this year's theme, which was our "Born Again Identity in Christ". Tuesday saw campers attending lectures themed around the role of Christ as our chief prophet and then our role as "prophets." The HYC cup, the annual camp-wide competition ran well this year, garnering many campers' praises. "I think it's better than last year" said one camper. Campers were challenged by Rev. Schwichtenberg's "Which Psalm is it Anyway?" quiz, powdered in a second chance at "Flour Power", and had their visual memory challenged in quick-view game of "Retention Detention" which required teams to remember the attributes of various random paraphernalia and answer questions of what they saw. We closed the evening with a worship service led by Pastor Hank Bowen and a rousing Junior campfire had our younger campers authoring Mad Libs, which in turn became a skit acted out by several counselors to close out the talent show.
Wednesday was another home run, as campers learned about our roles as priests and Christ's role as our Chief High Priest. The Counselors faced off against the Junior campers in a legendary capture the flag game, which ended in a draw! No major injuries, though yours truly felt the impact of the game Thursday morning! Campers also had the opportunity to enjoy a painting lesson from Ms. Phoebe Dawn, who once again shared her great talents with HYC. Those unable to participate still found plenty of fun throughout the week in the craft hall, which was busier than ever as campers painted hats and fans among many other activities. After our second worship service, led by Pastor Carl Gobleman, we were blessed with another wonderful talent show! For those of you not familiar with the talent show, campers from your very church showcase their musical and comedic talents for us in a span of 1.5 hours. This year we enjoyed musical numbers, cabin skits, and even witnessed Rev. Mike McGee take on the campers' chess champion. To God be the glory, great gifts he has given!
Thursday's lectures wrapped up as campers learned the dynamic of our being kings as Jesus is our King. After getting our new t-shirts, designed by Mr. Seth Haller (many thanks for an excellent design!), we left Camp Bob Marshall briefly to enjoy God's creation. Included with the regular Sunday Gulch Hike were two new outings: Lovers Leap and Legion Lake. Campers returned from their outings, hurrying back to escape pouring rain, just in time to enjoy burgers for dinner. After dinner, Pastor Paul Henderson led the camp through an evening of praise in the form of a Hymn Sing. Elder Doug Haak and the HYC Choir ended the service with a beautiful rendition of "By Faith." The night ended with a tense volleyball game between the senior campers and the counselors. Even though the game was close, it ultimately ended with the seniors overcoming the counselors with a score of 3-2 in a dramatic come from behind victory.
Overall, HYC 2023 was another roaring success! Not only were the campers able to have fun connecting with their peers, but they also were able to learn more about God and their identity in Christ. Praise God for His many blessings!
Silas Henderson, Deacon
Covenant Reformed Church,
Watertown, SD